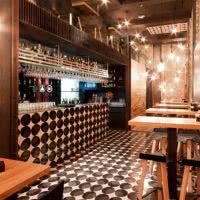 Encaustic tile Mosaics for Business and Retail
Thanks to its high resistance, our authentic cement tile mosaic It is an original and long-lasting option for any business, both for bars and restaurants, as well as for shops and hotels or other highly transited areas.
Here are some examples from our clients:
Companies are making an increasing effort to surprise their customers and take care of their corporate image.
Well into this stage, the first impression is already in all corporate aspects.
We have seen incredible growth in tile sales to businesses and companies along with changes in design trends with floors and murals more and more original. our Encaustic tiles completely personalized allow you to quickly capture the attention of customers with the cement mosaics at a first glance, even adding a corporate image in businesses with multiple venues.

Any questions? contact us.
Discover our photo galleries in pinterest!