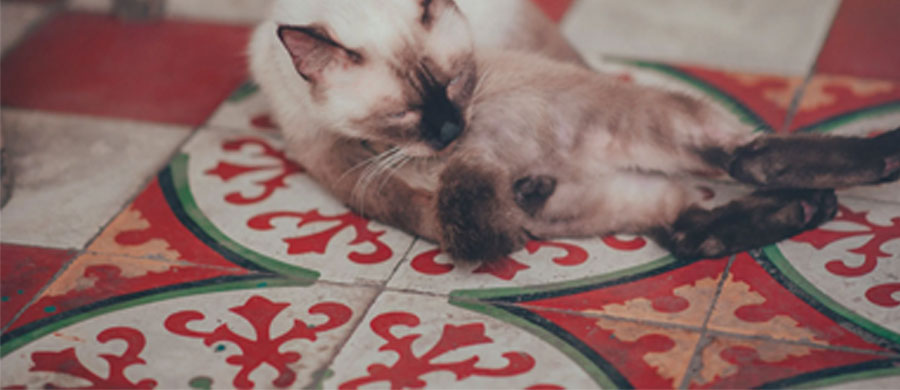 GUIDE TO RESTORE, TREAT AND CARE FOR HYDRAULIC SOILS.
Whether you have an old or a new floor, our Crafted Tiles may be easier to restore and mantain than you think.
This type of flooring has been used constantly for centuries, commonly in more humble homes and, above all, in high-transit and humid areas such as kitchens, entrances and bathrooms; For this reason, they require a very basic mantainance, withstanding the toll of time extremeley well.
How to Care for Encaustic Tiles
INDEX
---
Cleaning when installing
The most important thing after the installation of encaustic tiles is to let both the cement glue and the grout dry completly.
There will be areas that dry before others; Dark areas that remain to dry may be seen in the middle of the tiles, but before sealing the slab these stains must have disappeared completely.
If they are not allowed to dry properly, moisture can be trapped within the sealer and it can stain the tiles permenantly.
Installation Residue
If small stained areas of grout have remained from the installation, these can normally be cleaned gently with a dishwashing pad and a simple mix of soapy water.
In case there are still remains, it is advisable to use a cleaning product indicated for residue.
CEMENT AND GROUT REMOVER
An abrasive liquid that is slightly more acidic than the stain remover and is perfect for residue removal.
General cleaning
The cleaning of cement mosaics is done simply with a soapy solution of water and neutral pH soap.
Wax can occasionally be added to the solution to highlight the colors. It can be found in any supermarket.
If grease or other stains appear, they can be cleaned with a dishwashing-type degreasing soap and a scouring pad.
In the event that the stain persists, a specific stain remover:
DEGREASER STAIN REMOVER STRIPPER
It is a slightly abrasive liquid that can remove a thin layer eliminating surface stains.
---
Seal and protect
Whether it is a first installation or a floor restoration, it is advisable to treat the mosaic with a protective sealant, especially in areas where there may be a risk of staining.
There are two types of finished coatings
for indoor use
Wet effect anti-stain protector
This will seal the tile to protect it from liquids and mold, giving it a mirror-like finish.
Treat the floor and highlight the colors with a wet effect and satin finish:
Special for places with high transit or with a higher risk of stains. With the floor perfectly dry and clean, apply by hand, in a well stretched and uniform manner, using a sponge roller or wide brush. After 4 hours we can apply a second coat (recommended). The result is more intense and has much better protection.
1L covers 8 -12 m2
For interior and exterior use
If we want to treat the floor keeping its natural hue and protect it from the outdoor weather, from the overflow of saline efflorescence and from domestic stains. Anti-frost effect.
Transparent Stain Protector
This will seal the tile to protect it from liquids and mold, leaving the natural effect of the tile.
The Matte protector will leave the tiles with their original matte finish.
(the tiles will obtain their natural satin effect over time)
With the floor perfectly cleaned and dried, apply by hand in a well stretched and uniform manner with a sponge roller or wide brush. It is recommended to apply a second coat after at least 4 hours to achieve better protection against stains.
1L covers 8 -12 m2
---
Extra mantainance and protection
occasional treatment
Wax has been used for centuries, we recommend using more specific treatments that are available today, but if you want a wax effect or some extra protection, this wax can be used over other waterproofing products.
Unlike common waxes used in floor washing, this wax is applied with a brush or sponge roller on a clean floor and forms a long-lasting film with a satin effect.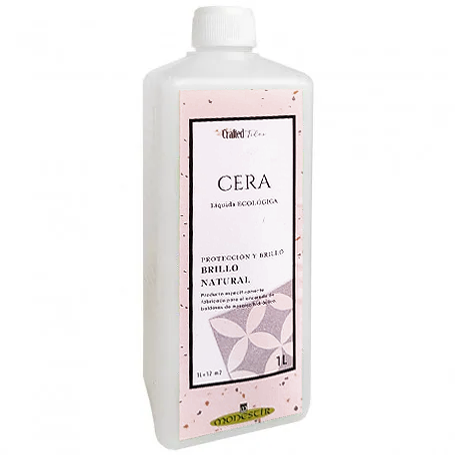 ECO LIQUID WAX
It will increase the reflection of the tiles and add protection.
It can be used both with the transparent treatment or with the wet effect, if we want to obtain a more intense and uniform shine-effect and leave the floor much smoother to facilitate ordinary maintenance, we can apply LIQUID WAX.
---
TIPS FOR THE CARE OF ENCAUSTIC TILE MOSAICS
Cleaning
The floor can be kept clean with a pH-neutral soap solution as would be done with other delicate floors. A neutral Ph will help keep the colors alive for longer. In the event that you need to disinfect a floor, you can use a non-abrasive disinfectant.
The use of bleach or ammonia is not recommended.
To give protection and a longer-lasting brightness, you can use wax mixed in the water at the time of mopping as you would on a parquet or wooden floor.
Maintenance
ECO liquid wax is a wonderful product for tile maintenance.
It creates a more resistant wax film than a commonly used wax and leaves a beautiful satin effect.
The use of this protector is recommended once every 2-3 years.
Types of protectors
The protectors, in addition to having a different finish, work differently:
The transparent protective sealant can be used both indoors and outdoors and protects by sealing the porosity of the tile.
The transparent protector is recommended for use in bathrooms and outdoors.
We recommend the use of the wet effect protector for interior rooms where there are higher risks of stains, such as kitchens and dining rooms, since this protector forms a film on the mosaic that will serve as a barrier to easily clean the floor.
With time, scrubbing and use, the surface of the slab made of marble will show off the characteristic satin of the product, which will reduce the need for mantainance.
It is advised to re-apply the sealer once every 5 years depending on the use of the mosaic.
If you have any questions about mantainance of your Crafted Tiles flooring, don't hesitate to contact us